AlleeH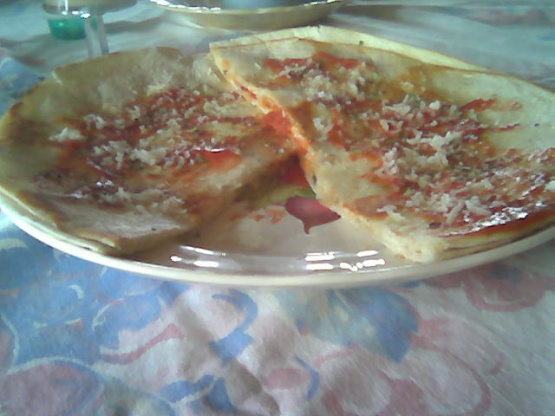 Unlike traditional Mexican quesadillas, it calls for Italian meats, cheeses and seasoning. Serve it with a green salad topped with Italian dressing for a simple dinner for two.

Love these little quesadillas ~ made them tonight for our dinner before running off to piano lessons and church. Super quick and easy to put together ~ took no longer than 15 minutes total time. Great little meal with salad. Thanks for posting looneytunesfan ~ this is a keeper! Made for Spring PAC 2010!
In a small saucepan, cook spaghetti sauce over medium-low heat for 3-4 minutes or until heated through.
Meanwhile, spread butter over one side of each tortilla.
Sprinkle unbuttered side of two tortillas with mozzarella cheese; top with salami and pepperoni.
Sprinkle with Parmesan cheese and oregano.
Top with remaining tortillas, buttered side up.
Cook on a griddle over medium heat for 2-3 minutes on each side or until cheese is melted.
Cut into wedges; serve with warmed spaghetti sauce.