Nimz1466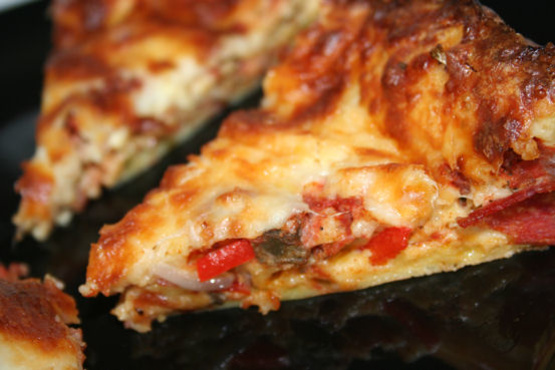 I make this often, my family loves this as an alternative to pizza, you may use your own favorite pizza sauce in place of the sauce ingredients, I do all the time, have fun using different toppings :)

Decided to try this for breakfast this morning. Doubled it. Think it was a 10x14 pan? that I used. It's just slightly bigger than my 9x13 pans.
Used half milk and half half-and-half cream. Red onion, 4 shakes of cayenne. 1/2 t garlic powder and an 8 oz can of tomato sauce and whatever else you had in your recipe. Chose salami, red pepper, black olives, mozzarella and cheddar for our toppings. Had to cook it a wee bit longer because of doubling it.
Hubby and I really liked it. Daughters - not so much. What do they know. They insisted they don%u2019t like eggs. Ugh! Who cares, this will be a regular. Thanks you.
Set oven to 375 degrees.
Set oven rack to second-lowest position.
Grease a 9 x 9-inch baking pan or an 11 x 7-inc pan.
In a bowl, whisk together eggs, flour and milk until smooth.
Stir in onion, butter, salt and cayenne.
Pour mixture into prepared baking pan.
In another small bowl, combine oregano, basil, garlic powder and tomato sauce; gently drizzle over the batter, and cut in with a knife to produce a marbled effect. (reserve a couple of tablespoons of sauce for the top of the pizza puff).
Sprinkle pepperoni or salami and the bell peppers and whatever else you would like to use such as mushrooms, onions etc over the sauce; dot with a little more sauce over the cheese (this is optional).
Top with mozzarella cheese.
Bake for 25-30 minutes, or until golden brown.
Cool 5 minutes before serving.