PaulaG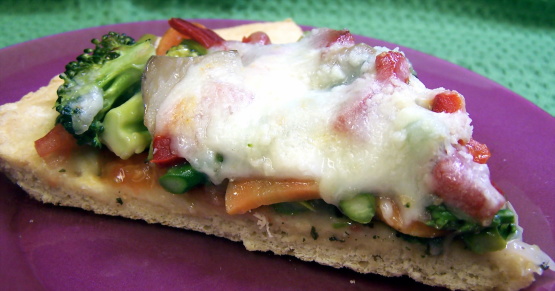 If you are trying to get more veggies into your diet then try this. It is loaded with broccoli, asparagus, carrots, tomatoes, and mushrooms and loaded with fresh mozzarella cheese. You can use a pre-made pizza shell of make your own. There are many great recipes for pizza crust already posted on Zaar. The cooking time assumes that a pre-made crust is being used.

Excellent pizza. I loved the tomato base with the Italian dressing mix of veggies. I didn't use the carrot and probably won't use the asparagus next time. Endless possibilites for this pizza and you can probably use any veggie mix that you want. Used my recipe #178900 for the crust. Thanks Paula.
Preheat oven to 425 degrees.
Place pizza crust on pizza pan, prick several times with fork tines and bake for 7 to 8 minutes.
In a medium skillet, heat the Italian dressing to a boil and add the garlic and onion, cooking until the onion is wilted.
Stir in the asparagus, carrot slices, broccoli flowerets and mushrooms.
Cook over medium heat, stirring frequently, for 3 to 4 minutes or until vegetables are crisp tender.
Remove the pizza crust from oven and top with sliced Roma tomatoes, sprinkle basil over tomatoes and cover with the vegetable mixture.
Sprinkle the roasted red pepper over all and top with mozzarella cheese and the grated Parmesan.
Return to oven and bake for 10 to 15 minutes or until cheese is melted and crust is golden brown.