Marlene.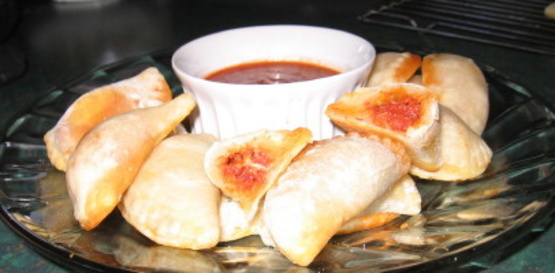 Far cheaper than the store bought version, and a real kid pleaser.

I guess because the recipe is vague about water required for the dough, mine did not turn out. It was perhaps too sticky and overworked? I really don't know how it was supposed to be. My pizza pops did NOT brown up in the oven. Even the bottoms stayed white. I tried a batch at a higher temp, but to no avail. I think I will try a yeast dough next time.
DOUGH: Mix flour, oil and salt with enough warm water to make a stiff dough. Let stand covered for 1/2 hour.
FILLING: Combine ingredients.
To assemble:
Roll dough thin, and cut in circles. Place a tablespoon of filling on each. Fold over and seal the edges.
Bake in the oven, (350 to 10 mins) or deep fry til golden.