loof751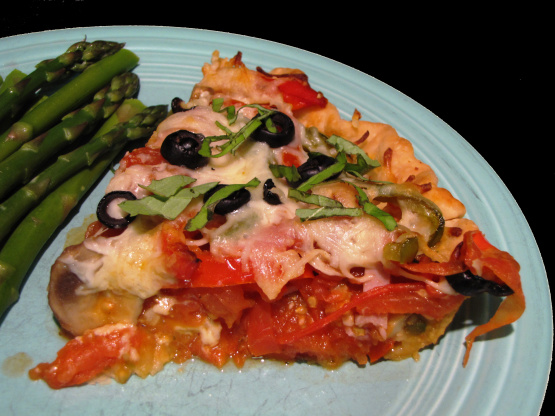 Made this for dinner tonight thinking it would be a hit with the kids. However, it got quite a few mixed reviews. My one daughter loved the filling but did not care for the pie crust base at all, while the other two daughters said it was okay. My son decided his favorite part of dinner was the pie crust, so he ate the crust which my daughter scraped the filling off of. I found the combination to be quite different and interesting. Recipe has been made and reviewed for the Best of 2010 Recipe Tag game.
In a large skillet heat 2 T.
oil over medium high heat, add the onions and saute for 8 min.
Remove to a large bowl and salt and pepper them Same skillet add 1 t.
oil and saute the mushrooms and peppers-remove to the same bowl and salt and pepper them.
Add 2 t.
to the skillet and saute the tomatoes, garlic, thyme, oregano.
Remove to bowl and add sauce.
Fold in the salami and cool.
Place half of this mixture on the bottom of shell-then half the cheese-remaining mixture-remaining cheese-sprinkle black olives on top.
Bake in a 350 oven for 25-30 minutes.
Let stand at 15 minutes before cutting.
Serve hot.