evewitch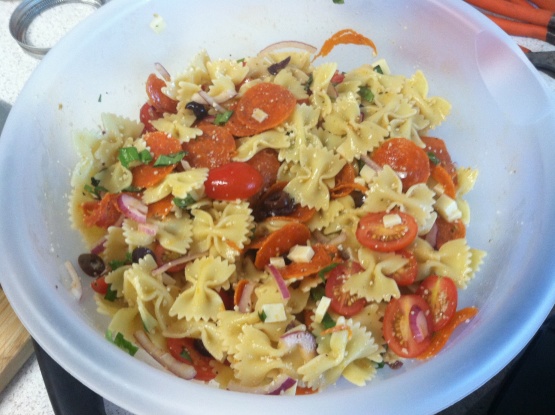 This recipe is from Woman's World magazine. It makes a great dish for pot-luck dinners or work "food days."

A search for "pizza pasta salad" found 7 recipes here at RZ & I'm surprised this hasn't been reviewed - esp since it resembles a "loaded" pizza more than the others. I added canned mushrooms, made a day ahead so all the flavors would blend & it was excellent. Thx.
Cook pasta according to directions.
Drain; rinse with cold water.
In small bowl, combine vinegar, oil, seasoning and salt.
In large bowl combine pasta, tomatoes, mozzarella, pepperoni, olives, onion, parmesan and basil.
Add dressing; toss.
Cover; refrigerate at least 2 hours or up to 8 hours.
Serve chilled or at room temperature.