Sara 76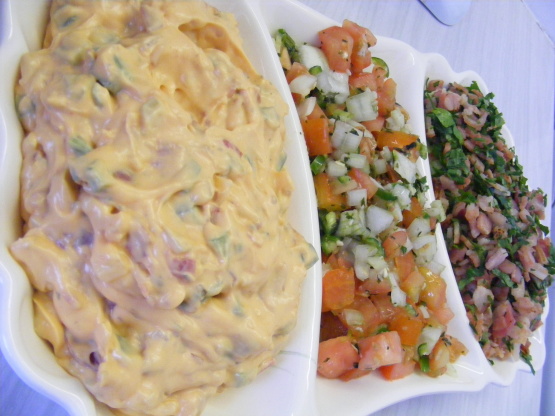 This is a yummy pizza flavored dip that's great with chips, veggies, crackers, or chunks of cheese(especially mozzerella) and it's guaranteed to be a hit at any party!

Top Review by Debber
You won't believe how I used this recipe! I needed to use up some of the extra potatoes that didn't get used when I made a big batch of German potato salad. Plus I had some leftover Pork Roast languishing in the fridge. Threw 'em in the frying pan with some butter, and then whipped up a batch of this (and used Recipe #4294 since I never buy those little EXPEN$IVE packets!!!). After the spuds & pig were hot & getting crispy, I added the whole mess of dip (minus the pepperoni, since I had pork going)...stirred it up, turned off the heat, and let it sit (lid on) for about 5 minutes while DH and kids washed up. This was a GREAT way to handle leftovers and VERY delicious! The kids walked into the kitchen-dining room, and right away said, "What is that GOOD smell!?" *Made for ZWT 3 Zingo Round*
Combine all ingredients and mix well(you can add or subtract any of your favorite pizza toppings too, it all comes out great).
Chill for 1 hour and enjoy!