ImPat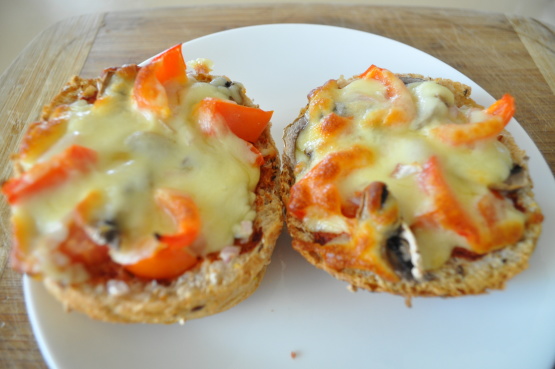 This pizza recipe is very satisfying and tasty, but way quicker and easier to make due to its using the convenience of a turkish pitta bread as the base. You can vary the toppings according to your taste preferences. Im just giving the one version I usually make.

A wonderfully simple and versatile little lunch dish that hit the spot.
I used my own homemade pizza sauce, ditched the fresh tomatoes and threw in a little bacon too.
I also didn't cut mine in half, as my pittas weren't the fluffy kind.
Delicious!
Made for PRMR.
1

large turkish pitta bread (not the small round lebanese kind, but the fluffy ones)

400

ml jar tomato sauce with herbs (or make your own using fresh tomatoes and herbs of your choice)

200

g sweet corn (tinned)

2

tomatoes, diced

1

bell pepper, chopped

1

onion, sliced

200

g mushrooms, sliced

200

g grated cheese (gouda or mozzarella or really any type you like)
For the base, slice the bread in half horizontally leaving you with two big rounds for making your pizza with.
Spread sauce on each round of bread and top with veggies of your choice (omnivores might like to add some diced ham or bacon). Sprinkle with cheese and additional herbs if you like.
Bake in the preheated oven at 180°C/350°F for 15-20 minutes.