Bergy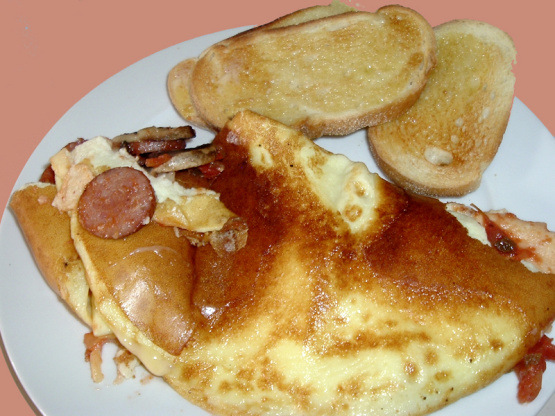 I learned this one in cooking school, I may have changed it though.

A great breakfast! Like Bergy, I sauted my mushrooms and pepperoni seperately. I only had two eggs, so I adjusted the other ingredients to taste. I added some garlic powder & onion powder when cooking the pepperoni. Very good- I'll definitely make this again.
3

eggs, beaten

3 -4

tablespoons pizza sauce, depending on how big your omelette is

2

ounces pepperoni, to cover 1/2 of your omelette
1⁄4 cup mushroom, sliced
1⁄4 cup mozzarella cheese
In a small bowl beat your eggs. Heat a frying pan, spray with non-stick spray or coat the bottom with oil.
Pour eggs into the pan and cook until you are able to get a spatula under it and flip without breaking it.
When it is flipped over top with pizza sauce, I usually coat the whole top, then on 1/2 of the omelette layer pepperoni, mushrooms and green pepper, (you can saute the mushrooms and peppers if you like, even add olives too). Top with mozzarella and fold over. Cook until cheese is melted.
Can be served by it's self or with hashbrowns of even rice.