Pamela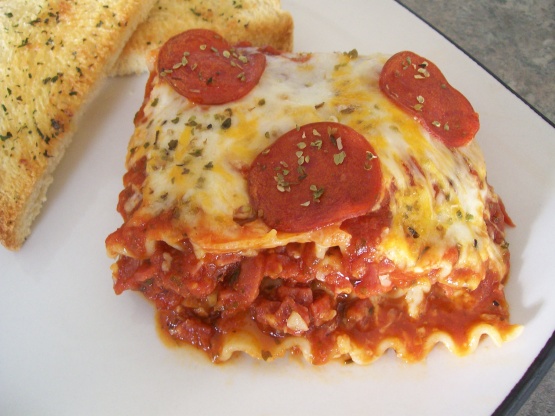 My kids are not overly fond of ground beef and this recipe is a creative way to make lasagna without it. I will usually make 2 lasagne at one time and freeze the other one for a quick meal at a later date.

What a wonderful lasagna! I followed your recipe (doubled it to freeze), with the following adjustments: I used 300g pepperoni total for both, a handful of chopped ham, and a pound of ground turkey. I also used "Recipe 83321" for the sauce - I actually used all of the sauce for both lasagnas. I used about a teaspoon or two of minced garlic. My DH absolutely loved it and kept going back for more. Thanks Pamela!
In a large skillet, saute vegetables.
Cook until soft, stirring often.
Stir in sauce (leave a small amount separate to place in the bottom of the pan) and spices, and finely chopped or grated pepperoni.
Spread a thin layer of sauce on the bottom of a 13 x 9 inch pan.
Top with 5 overlapping noodles, then 1/3 of the sauce mixture and 1/3 of the cheese.
Repeat layers twice.
Bake at 375°F for 30 minutes.
Let stand 10 minutes before serving.
*You can also add additional pizza toppings if you wish such as bacon, cheddar cheese, ham, tomatoes, etc*.
To freeze: wrap well, label and freeze. To serve: defrost overnight and bake as directed.