Pizza Hut Style Pizza Dough (Bread Machine)
Ashley Cuoco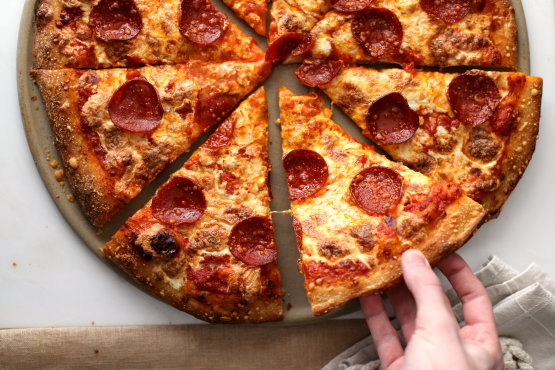 I came across the recipe from a copy cat recipe source. The 2 hours includes dough cycle time. This is one of the best pizza dough recipes I have found.

Top Review by WJKing
THIS was a really nice recipe for pizza dough. I did use your 9x13 pan idea - and it was NICE for a change of pace! I omitted the Accent (because of MSG) - and added extra garlic. MMMMMMM. We had to bake this 30-40 minutes - and our toppings weren't very thick, so I'd encourage anyone else who tries this to just bake till done, of course (or go higher temp. for 20 mins.. :) Next time I will brush the crusts w/ butter (or spray w/ butter-flavored spray), then dust w/ cornmeal & Italian seasonings before baking. We enjoyed this a lot! Thanks for sharing!
Add ingredients (except for cornmeal) to machine bread pan in order as per manufacturer's instructions.
Set to "Dough" cycle.
Lightly grease one 9 x 13-inch pan and sprinkle with cornmeal.
When the dough cycle is complete, roll out dough and place in pan.
Let rest in pans for 10-15 minutes.
Add toppings of your choice.
Bake at 350°F until done (approximately 20 minutes, depending on the thickness of toppings).
I make the pizza in 9x13 rectangular pans rather than the round pizza pans, because the squares pieces are easier to reheat and pack in school lunches.