Pizza Hut Original Pan Pizza
dixielyons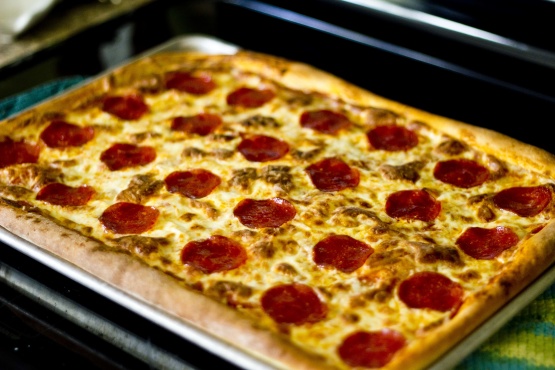 An easy recipe from a copycat site posted in response to a recipe request. Cooking time is approximate.

I have been trying out various pizza dough recipes for years now unable to find the perfect texture and flavor I was looking for. I am so glad I came across this one. It is THE dough recipe I will use from now on. (I haven't made the sauce yet) I made a few slight changes. I heat the oil for the bottom of the pan with a clove of garlic on medium heat until the garlic "fizzes". Then I set it aside to come to room temperature and until the dough is ready to go in the pans. I also always let my yeast mixture sit for longer than stated, anywhere from 10-20 minutes, and I add the salt to the flour.

This dough seems to be very forgiving too. The first 2 times I made this I didn't have powdered milk so I substitued warmed milk for a portion of the water. The 3rd time (this evening), I completely forgot to add the oil to the dough. It came out really dry and I thought that I added too much flour. I ended up adding a few tablespoons of water to the dough until it felt "right". I remembered the oil when it was much too late but it still turned out GREAT! The kids even said that it was the best pizza I have ever made.

The type of pan really makes a difference too. I have an actual Pizza Hut pan that my mother let me have. (she got it from someone that use to work for Pizza Hut 20 years ago) It is a thick, dark deep dish type pan. The pizza omes out perfect. The crust comes out exactly like thiers. Soft on the inside with a thin layer of crispy golden crust. My airbake pizza pans don't come out as well, but they are still really good pizzas.
Combine sauce ingredients and let sit for 1 hour.
Put yeast, sugar, salt, and dry milk in a large bowl.
Add water and stir to mix well.
Let rest for two minutes.
Add oil and stir again.
Add flour and stir until dough forms and flour is absorbed.
Turn out on to a flat floured surface and knead for about 10 minutes, adding more flour as needed, until elastic and no longer sticky.
Divide dough into three balls.
Put 3 ounces of oil in each of three 9-inch cake pans, making sure it is spread evenly.
Using a rolling pin, roll out each dough ball to about a 9-inch circle.
Place in cake pans.
Spray the outer edge of dough with Pam and cover with a plate.
Place in warm area and allow to rise for 1 to 1 1/2 hours.
Preheat oven to 475°F.
For each 9" pizza, spoon 1/3 cup sauce on dough and spread to within 1-inch of edge.
Distribute 1 1/2 ounces shredded mozzarella cheese on sauce.
Place toppings of your choice in this order: Pepperoni or ham, vegetables, meats (cooked ground sausage or beef) Top with 3 ounces mozzarella cheese.
Cook until cheese is bubbling and outer crust is brown.
Serve hot.