Satyne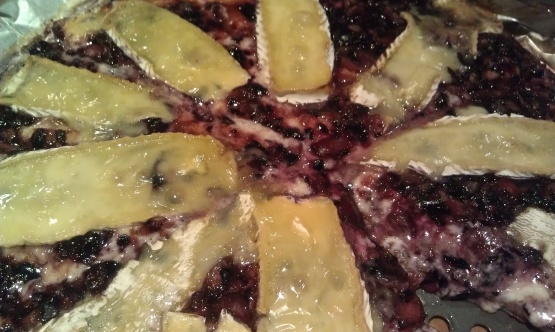 Cheese and fruit plates-uh, so 20th century. Impress your guests to this berry-bursting, cheese-oozing taste sensation on your favorite crust or flatbread. Or, surprise your honey with a bottle (or two!) of good wine, romantic movie, candles and this pizza and see what happens. Add grilled chicken or thinly sliced prosciutto and it's filling enough that you won't have to go out for dinner.

Jen, Jen, Jen, Jen, Jen!!!! I needed a meatless dinner tonight and I was tired of the same ol same ol. This pizza rocked my world! I could eat this for breakfast, lunch, dinner and dessert and wouldn't get tired of it. The balsamic, pepper, berry sauce, and cheeses come together perfectly. I didn't have any fresh berries and used frozen which also worked, just make sure to drain them well. I used the marscapone substitute from this site and light brie. I didn't serve it with wine, that would have taken up too much space in my stomach- I just wanted pizza! Thank you Jen- this should have won :) PAC 09 EDIT: I brought over the left overs (I tried to eat the whole thing ;) ) to my grandmother's house and we enjoyed it with martinis and Manhattans. Everyone raved about it even after being microwaved!
1

(10 inch) thin pizza crust

6

ounces mascarpone cheese

4

ounces brie cheese

2

tablespoons caviar (optional)

Balsamic Berry Sauce

1⁄2 cup cherries (fresh preferred but frozen O.K.)
1⁄2 cup blueberries (fresh preferred but frozen O.K.)
1⁄4 cup strawberry preserves

2

tablespoons sugar

2

tablespoons balsamic vinegar
1⁄4 teaspoon black pepper
Preheat the oven to 400 degrees.
Slice cherries in sixths, removing the pits, so they're roughly the same size as the blueberries. Mix together all berry sauce ingredients. Cut brie in thin quarter-inch pieces.
Spread mascarpone evenly across pizza crust (using your hands is easiest), then drizzle berry sauce evenly across the top, then place brie slices across the top, evenly-spaced.
Bake for 12-15 minutes or until crust starts to turn golden and brie is melted; sprinkle caviar across the top, if desired; cut in thin slivers and serve hot.