Pizza Dough for Thin Crust Pizza
Food.com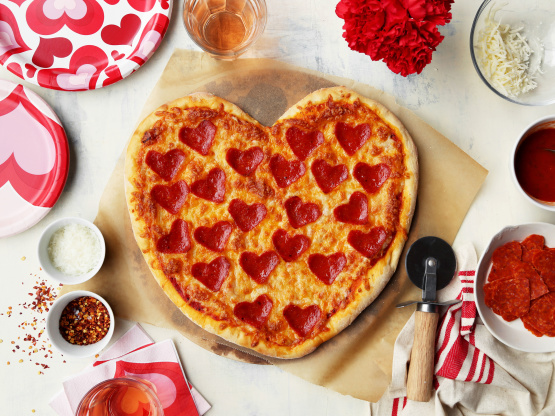 Note:This is one of the recipes I adopted in the Great 'Zaar Ophan Adoption of 2005. I hope you enjoy it.

Top Review by lolsuz
I made this last night. This is PERFECT and we were so pleased with it. I had my usual trouble with measuring the yeast, but only because I buy the bulk instant yeast and the recipe is written for the little packets. My general rule of thumb is 1 teaspoon of instant rise yeast per cup of flour, so I used 1 and a half teaspoons for this recipe and it was perfect. I used my bread machine to make the dough, and the dry/wet measurements you cited were so perfect that I didn't have to tinker with it at all, which was a welcome surprise. Oh, and I also added a scant teaspoon of sugar, to ensure a good rise from the yeast. I baked my crust on the top rack for about seven minutes at 425, pulled it out to dress it with my sauces and toppings, then popped it back in on the top rack to bake until the cheese was bubbly and browning a bit. It was PERFECT. I forgot to brush the edge of the crust with some olive oil but that's the ONLY improvement that could have been made to the pie we had last night.

Our toppings: red sauce, chopped black olive, fresh basil leaves, mushrooms and Mozzarella one one half.... pesto sauce, chopped black olive, mushroom and Mozzarella on the other. Perfect, perfect, PERFECT.

I do want to add that since we've just moved, I couldn't find my rolling pin yet so I had to resort to hand-tossing the dough, and it worked BEAUTIFULLY. The dough was wonderfully elastic for it. It easily shaped to a big round pie; thin in the middle and perfect thick edges. I've never been able to do that before but this dough made it seem easy. We love paper-thin crust, and this one did the job beautifully. A definite keeper, thanks so much for posting!
Mix a little sugar into the warm water.
Sprinkle yeast on top.
Wait for 10 minutes or until it gets all foamy.
Pour into a large bowl.
Add flour, salt, olive oil.
Combine.
Knead for 6-8 minutes until you have a moderately stiff dough that is smooth and elastic (add a bit more flour if you need to).
Cover and let rest for 20-30 minutes.
Lightly grease two 12-inch pizza pans.
Sprinkle with a little bit of cornmeal.
Divide dough in half.
Place each half on a pizza pan and pat it with your fingers until it stretches over the whole pan.
Try to make it thicker around the edge.
If desired, pre-bake at 425 F for 10 minutes (I don't always do this).
Then spread with pizza sauce and use the toppings of your choice.
Bake at 425 F for 10-20 minutes longer or until bubbly and hot.
Makes 2 12-inch pizzas.
If you don't want to use all the dough, you can freeze it.
Take a portion of dough, form into a ball, rub olive oil over it and place it in a freezer bag (the oil makes it easier to take out of the bag).
When you want to make a pizza, take dough out of freezer and allow to thaw before using.