CandyTX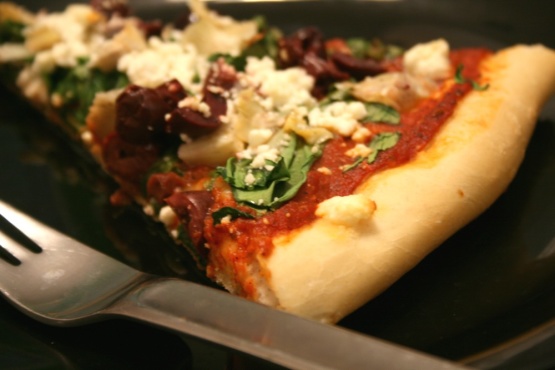 I make the dough with 1/2 white and 1/2 wheat flour. It gives the crust more substance and a better flavor. Even my kids and their cousins prefer it this way. I like using olive oil in both the crust and the sauce. Since we only eat one pizza for a meal, I have included two methods for freezing the second one, or you can freeze both for OAMC. NOTE: prep time does NOT include rise time.

Top Review by Bobbin
I have made this numerous times and we all love it. I also use the half white/half wheat combo; it is perfect. It is so much better than buying nasty frozen pizzas to feed your kids and it doesn't take that much effort to make your own dough. Who knew?!!? We love this and I thank you for posting. So no one else will have to do the math: 3/4 tbsp=2 1/4 tsp
In a large bowl, sprinkle yeast over warm water (I add a pinch of sugar) and allow to set until it begins to foam, about 5 minutes.
Stir in salt, oil and half of flour. Gradually add remaining flour, mixing well.
Knead 8-10 minutes or until smooth and elastic. Place in greased bowl and let rise until double (1/2-1 hour) Punch down and let rise again until double. Punch down and divide. Pat out on two pizza pans.
Top with pizza sauce & toppings. Bake at 400 degrees for 20-25 minutes.
Pizza Sauce: Mix all ingredients together, blending well. (You can also add a few sprinkles of garlic powder if you want).
Makes enough for two 12- or14-inch pizzas or one thick 16-inch pizza.
Top with meats, cheese and other toppings.
To freeze, prepared pizza method: double wrap and freeze the prepared pizza (without baking it) on the pizza pan. Unwrap and bake the frozen pizza at 400°F for about 22 minutes.
Alternative freezing method: after first punch down of dough, divide dough and place in a zip-loc bag and place in the freezer. To prepare, remove from freezer and place in a greased bowl. The dough will take about 8-10 hours to thaw and raise slightly. Pat out on grease pizza pan and proceed as directed above. I also freeze half the sauce in a small container for future use.