gailanng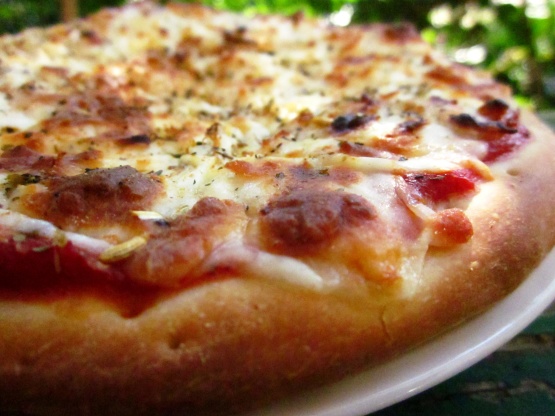 I searched, tweaked and perfected this awesome pizza crust. I really only use 4/5 of this recipe and use the other 1/5 for a small one. When freezing extra dough, I make 6 batches. My Bosch can mix 3 at a time - so, I just triple the recipe 2 times. I split all the dough into 5ths (which makes enough dough for 1 1/2 pizza's) and shape into balls. Wrap balls in plastic wrap and freeze. To thaw, place in fridge overnight. Let rise in large bowl (covered with a towel) on counter for about 2 hours then continue with step 3. Split dough into thirds. One third is for the half sized pizza and the other two thirds if for the regular sized pizza. WWPP - 3
In a large mixing bowl (I use my Bosch), dissolve the yeast and brown sugar in the water, and let sit for 10 minutes. Add the salt and oil to the yeast solution, mix. Sift in most the flour - mixing while adding.
When dough is well mixed, I turn up the speed and slowly add the last bit of flour (dough only slightly sticks when touched). Cover mixing bowl and let rise until double (usually about an hour).
Mix one last time, remove from bowl and form into a ball. Allow the dough to relax for a minute before rolling out. Once on pan, lightly brush the middle (where ever the sauce will touch) with olive oil if using a tomato based pizza sauce.
Allow dough to rise to desired thickness. Add sauce, a little bit of cheese, toppings and then a bit of cheese on top.
Preheat oven to 425 degrees F (220 degrees C). Bake pizza until the cheese and crust are golden brown, about 16 to 18 minutes.