corelila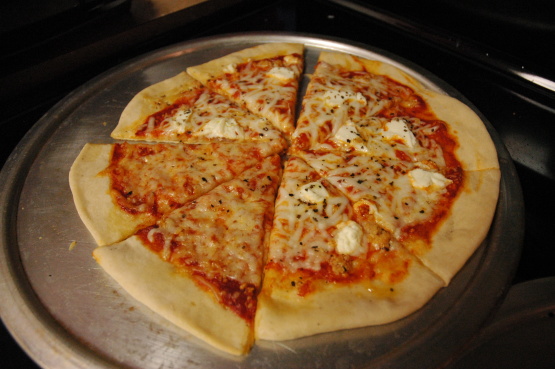 From the "Mom and Me Cookbook" by Annabel Karmel that I sent to my swap partner **Mandy**, actually her daughter!, for the 2009 Cookbook Swap. Feb 27 2010----Thanks to Hokies for finding my typo! Definitely should mix the yeast with water!!

I remade this recipe and it turns out I didn't add enough water the first time. I have made it twice since and it's always great. Today I made pizza instead of calzones out of this recipe and it tasted AMAZING. My only gripe with it s that it's a little bit difficult to see when it's done because it doesnt turn brown.

If you want to, you can let it double rise. It makes the dough more fluffy.
Mix the yeast with 3T. water. Set this aside for 10 minutes or until it is frothy.
Sift the flour into a bowl and add the sugar, salt, and pepper. Then make a well in the center.
Pour the yeast, water, and oil into the well. Use your hands to mix everything together.
Sprinkle flour over a clean work surface. Then knead the dough for 8 minutes, until it is smooth and elastic.
Oil a large bowl, put in the dough, and cover with plastic wrap. Leave in a warm place until the dough has doubled in size.
Is it ready? Poke holes in the dough. If the holes stay, it's ready. Punch down with your fists and place on a floured surface.
Knead the dough again. Then cut it into four equal pieces. Roll each piece into a 7" (18-cm) circle and place on a baking sheet.
Preheat the oven to 425F (220C). Top as desired and bake for 12 minutes.