Mr-Mom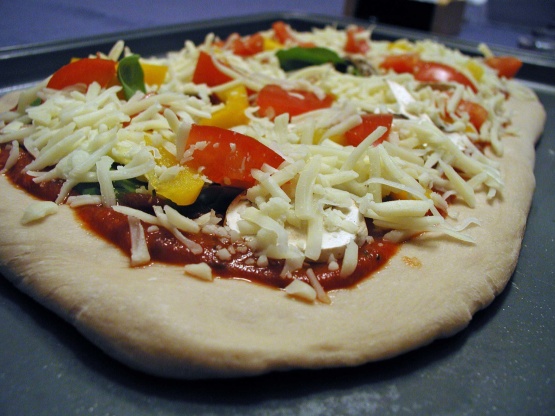 This is a really great basic pizza dough recipe. the wine tempers the yeast flavor and the texture is perfect.

I was very skeptical to try this recipe but I went with the reviews and gave it a shot. Wow did it turn out good! I used it to make calzones. Usually when I make homemade dough it tastes like the yeast and is sometimes very tough. This dough cooked up wonderfully. It was crispy on the outside and nice and soft on the inside. It had a wonderful taste. It was the closest to pizza shop I have ever come. I used red wine even and it was fine. The dough was not pink as others have stated but it might depend on the type of red wine. I did let it rise twice as well as others had stated. It was easy to work with and just excellent! Will defenitely make again and again.
Dissolve yeast and sugar in the warm water and wine.
Let sit for approximately five minutes, until yeast bubbles.
Dissolve the salt in the 2 tablespoons of water.
Stir honey and oil into yeast mixture.
Stir in one cup of flour and mix with a wooden spoon until it forms a thin batter.
Stir in the salt and water mixture.
Add 2 cups of flour and stir until you can no longer mix in any more flour with the spoon.
Turn dough out onto a floured surface and knead for approximately 10 minutes, until the dough is smooth and shiny.
It may be a bit sticky, that's fine.
Spray a bowl with oil and place the dough in the bowl.
Spray the top of the dough with oil and cover with plastic wrap.
Allow the dough to rise for 45 minutes (or until doubled in volume) in a warm area.
***The more times you let the dough rise, the better it will be.
If you can, punch it down after the first rising and let it rise again.
Divide the dough into 4 pieces for individual pizzas, 2 pieces for small pizzas or leave as 1 piece for 1 large pizza.
Roll the dough out into rounds and let rest for 15 minutes.