Pizza Crust (Bread Machine)
truebrit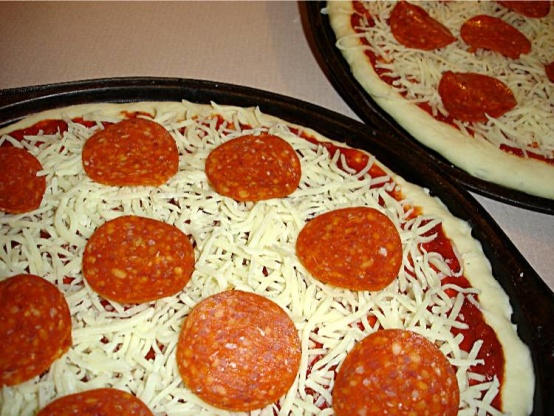 My family loves homemade pizza and using my bread machine to make the dough really takes the work out of it. This recipe make a soft thick crust. Sometimes I sprinkle the crust with garlic salt to add even more flavor. Prep time does not include cycle time, as bread machines vary.

This was a quick, decent tasting crust. I added some onion powder, along with about 1/2 Tbl. Italian seasoning. These additions made all the difference! Without these seasonings, the crust would be very bland-tasting. The good thing about this recipe is that it's a great start to make additions to suit your tastes! I highly suggest adding the extra seasonings to get the most from this crust!
Layer in bread pan according to manufacturer's recommendations.
Select'dough' setting.
When dough cycle is done, pat dough into greased 12x15-inch jelly roll pan.
Prick dough with fork.
Bake in preheated 400 degree oven for 7 minutes.
Remove from oven and add desired toppings.
Baste crust edges with butter.
Return to oven for 15-20 minutes or until cheese is melted and crust is done.