farmwife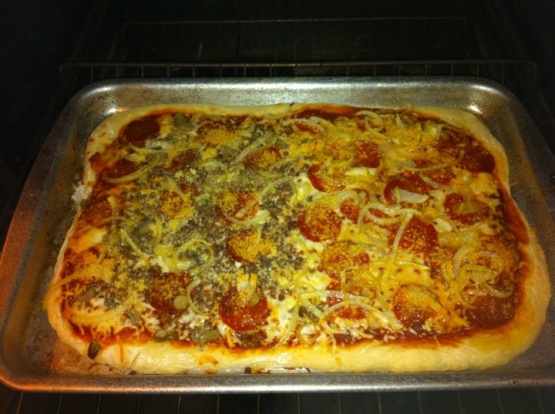 Home made good -- easy method.

I have been looking for a good non-bread machine pizza crust and this one is the best one I've tried after about 8 attempts. Sometimes it is more of a pain to haul out the machine than to just do it by hand... and this way is quicker. I put the cheese on right away unlike the directions state because I've had great luck with baking at 425 on the bottom rack for 16-18 minutes. Pizza and cheese come out perfect golden brown. Also, do not bake your crust first as I know allot of people are tempted. I've done both ways and find that putting it all in fresh is much better!
2

(1/4 ounce) packages yeast

3

teaspoons sugar

3

teaspoons salt

6 -7

cups flour

2

cups water

4

tablespoons oil
Mix the yeast, sugar, salt, and flour together.
Heat water and oil together until the heat from the bowl feels very very warm on your face when you hold it up.
Add to the dry ingredients and beat as much as possible.
Turn out onto a floured board and knead until smooth.
Place in a greased bowl and let rise until doubled.
Divide into four pieces; press each into a 16" pizza round pan.
Add sauce and toppings.
Bake for 20 minutes at 425 degrees Fahrenheit.
Add the cheese during the last 4 to 5 minutes only of baking.
Makes four 16" pans.