Pizza Caprese (Or Pizza Margherita My Way)
anaxilea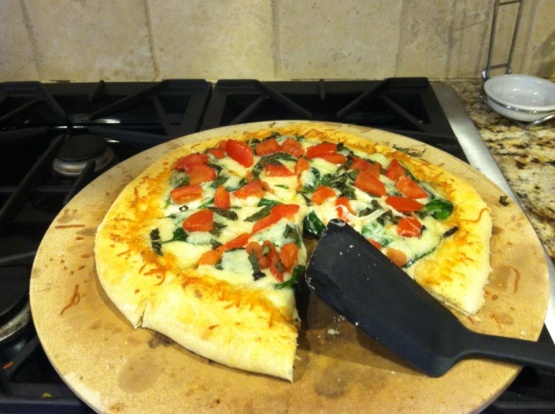 I was going to make myself a Pizza Margherita tonight, then I started thinking about how I'd make it...and before I knew it, I realized I was thinking more about making an Insalata Caprese! So I thought "Hmmm...why not?" So here it is: essentially a warm Insalata Caprese on a crust!

Beautiful recipe! I made it with Bobby Flay's pizza dough recipe and hand-tossed it into a 14" pizza so it'd be a bit easier to split within my family. I did make a few changes:

- I roasted two cloves of garlic at 375 for 60 minutes with a little bit of olive oil, and then mixed a little more oil into the mash to create the spread I primed my crust with. I wanted more of a puree of garlic than chunks.
- After I took the crust out from its priming, I put half my cheese on right away, let it get nice and gooey, and then added a layer of baby spinach before putting the rest of the cheese on top.
- I used only the rind slices of the tomatoes and let them drain onto a paper towel before I tossed them with my basil and seasonings to remove excess liquid. I didn't add any olive oil or balsamic because I opted out of making the dressing. Instead, I replaced the salt with an Italian spice blend and a little fresh ground pepper.

The pizza turned out AMAZING - one of my all-time favorites! I'll definitely make this one again. :) I'll add my photo to the gallery.
Combine chopped tomatoes, basil leaves, olive oil, salt, and pepper in a small bowl.
Heat oven to 400* F. Spread dough out into a 12 inch round on a greased pizza pan. Combine olive oil and garlic; brush over crust. Bake at 400* F for about 10 minutes, or until just turning golden.
Sprinkle shredded mozzarella over crust.
Using a slotted spoon, remove tomato mixture from bowl, reserving liquid. Spread evenly over shredded cheese.
Place fresh mozzarella slices over tomato mixture.
Drizzle reserved dressing over all.
Return to oven and bake at 400* F for 10-12 minutes or until mozzarella is melty with golden brown spots.