Pamela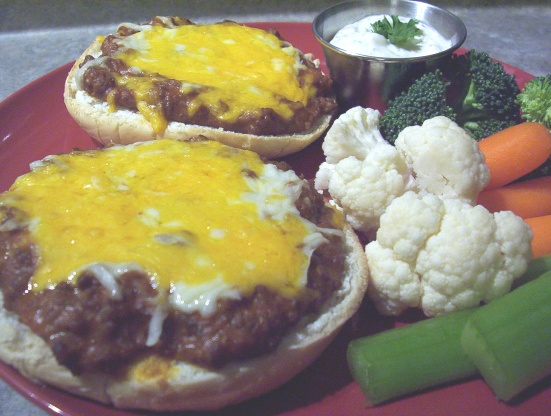 This is one of my mother's recipes. She is legendary cook who doesn't really follow recipes. I've recently sat her down and had her make her great meals into recipes so that I can have them and share them with others.

Very tasty & easy! This is a perfect recipe for nights you don't really feel like cooking! I used a 14 oz jar of pizza sauce instead of the spaghetti sauce. I also used 3 slices of white american cheese to mix in & a shredded pizza cheese mix. I'll definately make them again.
Brown the hamburger and drain of excess grease.
Add the can of spaghetti sauce and bring to a really hard simmer.
Add the American cheese slices.
You can use more than 4 if you are really into cheese (like me).
Let cheese melt while stirring.
Turn heat down to low simmer for about 10 to 15 minutes, until it thickens a bit.
While its doing that take your hamburger buns and pull them apart and lay them insides up on a cookie sheet (you will probably need more than one cookie sheet).
When meat mixture is done simmering start spooning the mixture onto the hamburger buns and spreading it over the entire surface.
You should have now what looks like a bunch of open-faced sandwiches.
Sprinkle each one with a little bit of cheddar and a little bit of the mozzarella.
Again, you can add more cheese, or use less depending on your preference.
Place in a 375°F oven for 15 to 20 minutes until cheese has melted and slightly browned and hamburger bun should be pretty crispy.