Tisme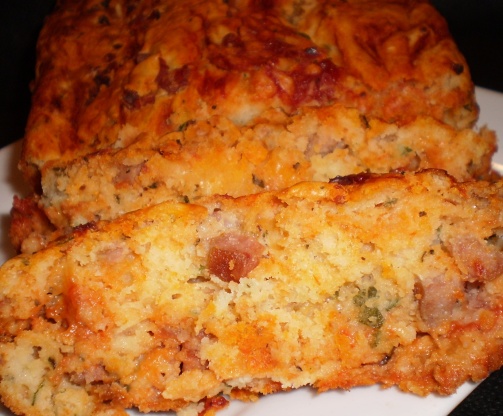 Adapted from a Julia Le Clerc recipe from an edition of the NZ Womans Weekly. It is great to serve with soup.

Top Review by Tisme
DH and I enjoyed this bread with soup for dinner. An easy recipe to follow and tastes so much like a pizza. My bread did not rise as much as I thought it would , I think I should have baked it a little longer than 50 minutes. But apart from that, this bread worked out very nicely, and was a great bread to enjoy with our soup.
Heat oven 180 C.
Spray loaf tin.
Sift flour into large bowl.
Add salt, pepper and oregano.
Stir to combine and make well in the centre.
Add eggs, oil and milk.
Stir just to combine and form a smooth batter.
Swirl through pasta sauce mixed with salami and cheese.
Pour into tin, bake 50 minutes
Ready when inserted skewer comes out clean.