Pittsburgh Steelers Roethlis-Burger
Bergy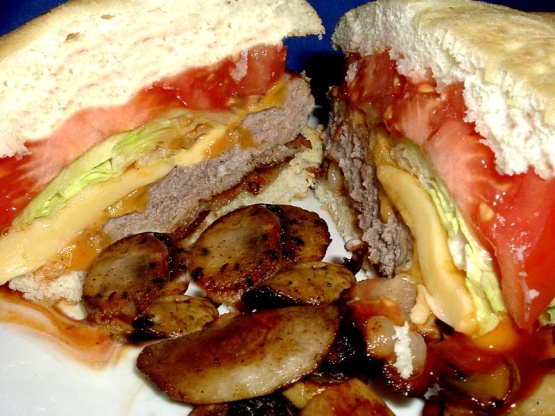 My DH is a huge Steelers fan. Ben Roethlisberger is the quarterback for the team and apparently pretty popular in the Pittsburgh area. DH heard about these burgers and had to have one! There seem to be different versions..this is a combo of 2 of them.

Top Review by NanciY
This burger actually originated at a bar called the First Run in Oxford, OH, home of Miami University. It was named for Ben while he was a student there. The restaurant has changed owners and name, but the burger is still on the menu and it is AWESOME!
Combine beef and sausage, mix well.
Form six burger patties out of the meat mixture. Place in the refrigerator until chilled.
Grill patties to well done, 170°F.(There's pork in there!).
Near the end of grilling, top each patty with a slice of provolone and a slice of cheddar to melt.
Toast buns.
Assemble burgers: bottom bun, bbq sauce, burger, bacon, ranch dressing, top bun.