Pam-I-Am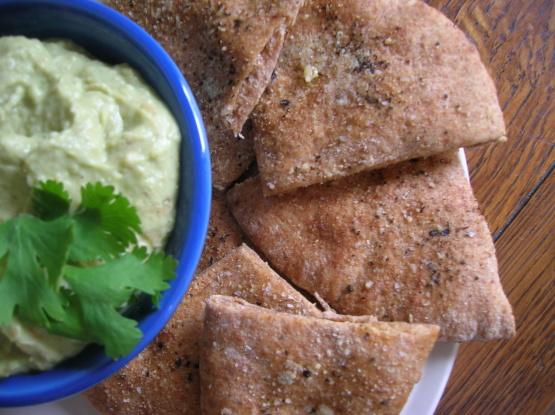 Syrian bread is used in this snack. I make these all year and especially during the summer. My guests are disappointed if I don't supply these as one of our appetizers.

I baked this snack for an office party and served them with eggplant hummus and salsa. I didn't have any ground cayenne pepper, so I used crushed red pepper, and they turned out wonderful! A coworker even told me I could package them up and sell them in grocery stores! I will definately be making these again. Thanks, Judy-Jude!
Split the pita bread into two halves.
Score with sharp knife, but don't cut completely through.
Brush lightly with olive oil, sprinkle lightly with basil, garlic powder or garlic salt, Parmesan cheese and cayenne ground pepper.
Place on cookie sheet and bake at 350°F until golden or lightly browned.
Cool and break into pieces.
We serve them as is and also with side dishes of chopped jalapeño peppers and chopped tomatoes.