ImPat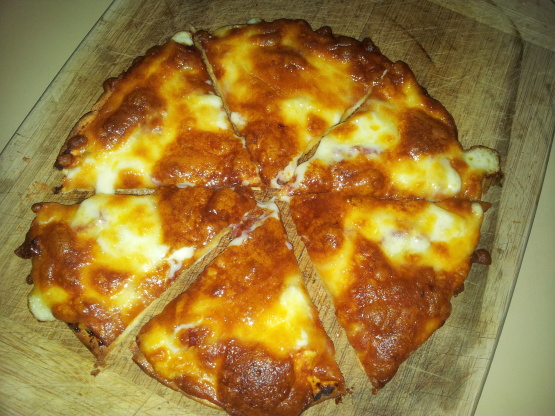 This is a fun lunch that is quick to prepare. You can improve and add your favorite toppings. I found this in The Trailside Cookbook. I really enjoyed this recipe it quick and easy. When I made this pizzas I cut my pitas in half all the way thorough.

Top Review by ImPat
I made this for the DM fully expecting her to eat only 2 of the six slices but she at 4 and was feeling sorry she could not eat the other 2 as it was so tasty. I did use mozzarella cheese as I had some that was getting very close to its use by date and because of stove top restrictions I baked in a 200C fan forced oven for 10 minutes, with the pizza on a hot baking tray, which resulted in a crispy base and a golden gooey cheese. Thank you internetnut, made for Bargain Basement tag game.
Put the pita in a large skillet and cover it with the tomato sauce. Move the pitas ocassionally to prevent them from sticking or burning.
Layer with slices of salami. Sprinkle on the grated cheese. Heat gently until the cheese is melted and you have a fresh made pita pizza.