Redsie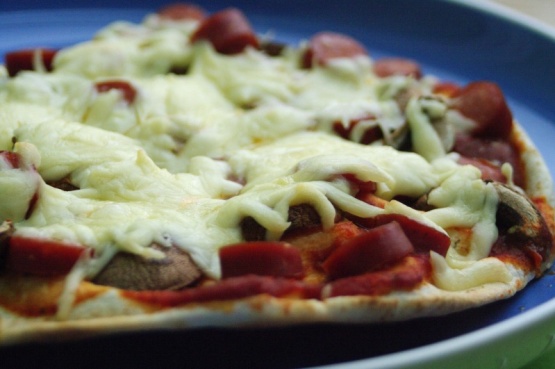 I found this in quick and easy style cookbook a long time ago. It literally takes only 15 minutes from start to finish to make! I made changes that my family likes and this is what I ended up with. My family really likes to make these as well and eat them. The kids have tons of fun making their own.

I've been eating these for as long as I can remember eating. These days a just do Margarita pita pizzas: No sauce, just grated mozzarella, torn fresh basil, sliced italian tomatoes, a sprinkling of grated parmesan and a touch of fresh ground black pepper. Heaven.
Lay out pita bread on a cookie sheet.
Spread 3 Tbsp sauce onto each pita.
Sprinkle 1/8 tsp of oregano and basil onto each pita.
Top with desired toppings
Top with 1/4 cup of shredded mozzarella cheese and 1 Tbsp of parmesan cheese on each pita.
Add red pepper flakes if desired.
Broil in oven on second shelf position for about 4-5 minutes.