Lvs2Cook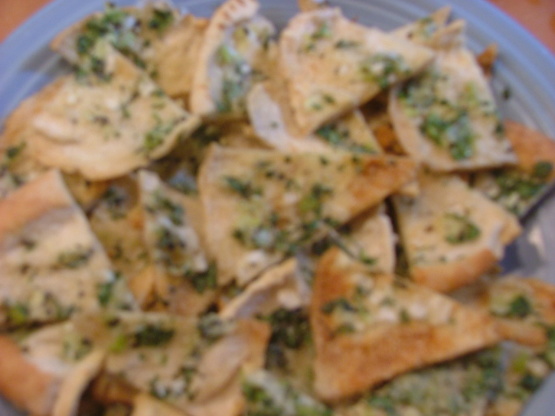 These can be served alone or served along side dips.

I love pita chips and wanted some and didn't feel like going to the store, so I spied this recipe, had everything and made them. I am so glad I did ~ they are fantastic! I made as posted except to add some garlic powder. They came out of the oven nice and crisp and crisped up more after cooling. Thanks so much for posting a keeper, Bobbie, they are almost gone already!
Preheat over to 350. Separate each pita round into 2 individual layers.
In small bowl, combine butter/margarine, parsley, basil and scallions. Brush evenly over rough side of pita layers. Evenly sprinkle with the Parmesan cheese.
Cut each pita layer into 6 wedges. Arrange on ungreased baking sheet. Bake for 12 minutes or until crips and golden.
Serve warm or at room temperature.