ImPat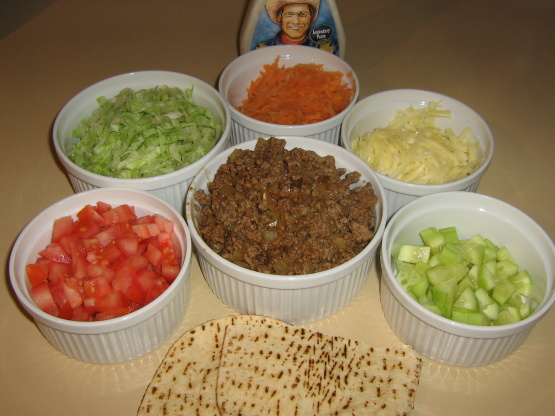 When my girls were young, they could not eat a taco without breaking the shell and having a mess! I started making them pita bread sandwiches and they loved them. Adults like them also. Very easy and a quick meal on weekdays when time is short.

Top Review by ImPat
Easy and fun to put together and enjoyed by all, not overly spicy which the DM thanks you for. I served with, diced tomatoe, cucumber, shredded cheese, carrot and lettuce and Paul Newmans Ranch Dressing. I also made a half recipe but used 300g of meat as that was what was in the package (220g was required). Thank you pollyw, made for Recipe Swap #20 September, 2008.
1

lb ground round

1

medium onion, diced

1

package taco seasoning, mild

1

package pita bread

1

cup water
buttermilk ranch dressing
shredded mexican cheese
lettuce, shredded
cucumber, chopped
avocado, slices
brown meat in 10 inch skillet until cooked.
add onion and cook for 10 minutes.
add taco seasoning with water and cook additional 10 minutes.
drain mixture
cut pita bread in half and "open" pocket.
place ground meat mixture inside
put whatever you want inside your taco and serve ranch dressing over the top.