Rita1652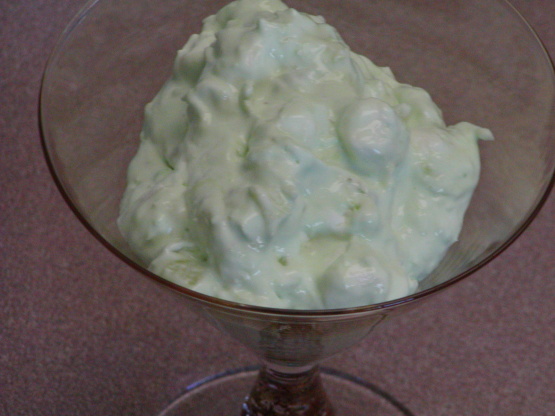 My mom made this all the time and it was always a HUGE hit. I made it for my Stampede BBQ's and I can't count the number of people who asked for the recipe. Kids will love this as a fun salad at Thanksgiving or other special occasions. It's quick, easy and very tasty. Everyone will love this! Cooking time is chill time.

As another reviewer mentioned this salad is the "Watergate Salad" that's printed on the "Jello" pistachio pudding mix, has been for years so nothing new here. They recommend NOT draining the pineapple which is the way I've always preparred it. It's a good salad or dessert. Very sweet however. I'm giving it only 3 stars because it is a copy cat recipe with no mention of the "Jello" people who came up with it many years ago.
In a large bowl, combine the pineapple and dry pistachio pudding mix.
Fold in thawed whipped topping, marshmallows and optional nuts until well mixed.
Refrigerate until chilled and serve.
Cooking time is chill time.