An easy to make green bundt cake...perfect for Christmas or St. Patrick's Day and delicious any time!!
Directions
Preheat oven to 350°F Grease and flour a 9-inch bundt pan.
In a medium bowl, stir together the cake mix and instant pudding. Add the sour cream, oil and eggs, mix well. The batter will be thick. Spoon half of the batter into the prepared pan. Combine the brown sugar, pistachios and cinnamon, sprinkle over the batter in the pan., being careful to keep filling from the edges as it might stick to the pan. Cover with the remaining batter.
Bake 1 hour in the preheated oven, until cake springs back when lightly touched. Cool for 15 minutes in pan before inverting onto a wire rack to cool completely. When cake is cooled, dust with powdered sugar.
Reviews
Most Helpful
This was a lovely, easy cake to make, although I must admit that it creates a very dense batter that cannot exactly be poured into the pan, but spooned in and patted evenly. Rather than use walnuts, I used pistachios, which worked out really well. This looked so Christmas-y, that I was thinking I might add some cranberries (not sure if fresh or dried) next time for a real holiday look! Thanks for sharing! Made for PRMR Tag Game.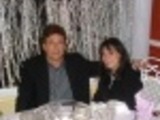 This is a fabulous cake. Its moist and I love the crunchyness of the struesal. I revised it slightly here on couponpassport.blogspot.com.
Easy peasy, lemon squeezy! Followed the directions; really wish I'd read the review that says not to put the filling too close to the edges, as it 'runs.' That was OK, but I had to kind of man-handle the cake to make it release from the pan (after greasing AND flouring), as it stuck a little around the middle. Tastes great though, and not a big problem. I shared this at a party, and it was all gone before I left! Thanks for sharing, CaliforniaJan!