Pistachio-Goat Cheese Bites
GaylaJ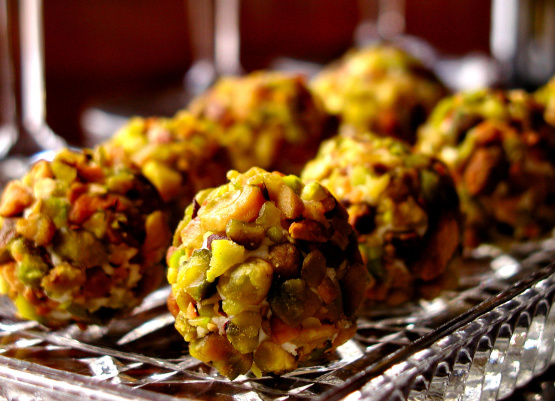 These are delicious little nibbles. I love their simplicity--they are quick to put together and can easily be made on the spur of the moment for an impromptu gathering, but can also be prepared up to a day ahead. The recipe is adapted from one published in "In Style" magazine. Prep time includes 15 minutes refrigeration time.

These are tangy, creamy, crunchy and delicious. I made them for a baby shower and since some were left over, I put them in a freezer bag and saved them. I melted them over some simple grilled chicken (1 per chicken piece) with a lemon & sundried tomato sauce -- it made a great quick dinner and it looked like I fussed for hours. These are not just for appetizers anymore!
1⁄4 cup shelled salted pistachios (I used double this amount)

6

ounces goat cheese, softened

2

ounces cream cheese, at room temperature
Toast nuts in small skillet over medium heat until fragrant, about 3 minutes; chop finely.
Combine goat cheese and cream cheese in a medium bowl. Drop mixture by heaping teaspoons onto a parchment-lined baking sheet; refrigerate 15 minutes.
Roll into balls, then roll in chopped nuts.
Refrigerate, tightly covered, up to 1 day.