Pistachio Gelato 1995 ( Italy)
WiGal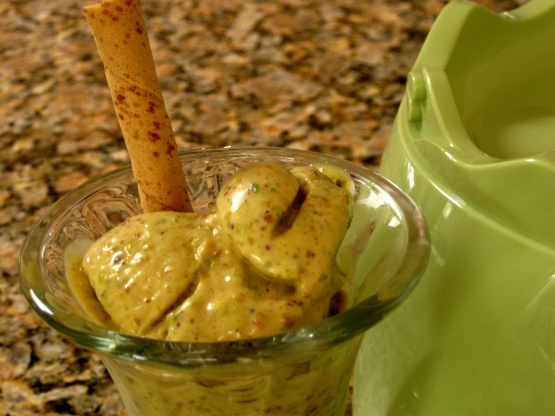 Italian ice cream, softer in texture and more intense in natural flavours.

Top Review by WiGal
Because I don't have a food processor in AZ, I put pistachios into zip lock bag and pummeled with hammer actually dh pummeled. I reduced the almond extract to 3/4 teaspoon and the sugar to 2/3 cup but I did put 4 tablespoons of that sugar into the pistachio mix for Step 1. I didn't have any green food coloring so omitted it hence the color is natural. Served with pirouettes. The hardest thing about this recipe was shelling the pistachios. I think the almond extract should be reduced to 1/2 teaspoon. Thank you for recreating a wonderful memory.
3⁄4 cup granulated sugar

2

cups whole milk

1

teaspoon almond extract

5

large egg yolks

2

drops green food coloring
Finely grind pistachios with 1/4 cup of the sugar in a food processor.
Combine pistachios with milk, and extract in a heavy saucepot over medium heat.
Bring to a low boil.
Whisk in a bowl the yolks and the last 1/2 cup sugar.
Gradually whisk the milk mixture into the yolk and sugar tempering.
Return to saucepot over medium low heat.
Stir until custard thickens slightly and leaves a path or ribbon drawn over back of spoon .
This should take about 8 minutes.
Do not boil.
Remove from heat, whisk in the colouring.
Refrigerate the custard until cold, or overnight.
Process now in your ice cream machine according to the manufacturers directions.
Transfer to a covered container when finished.
Place in freezer.