Marz7215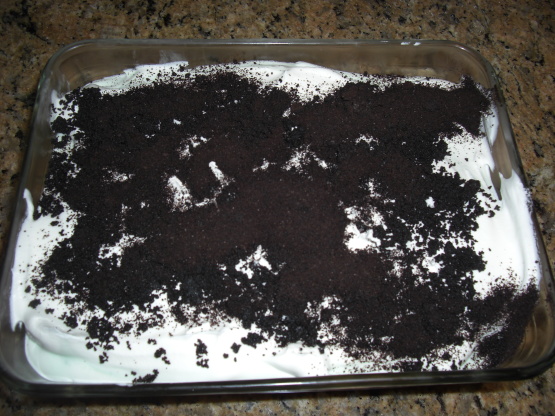 If you like the flavor of pistachio you will most definitely love this dessert. Decadent yet light in taste. A very pretty dessert too done up in a clear 9x13 or layered in a trifle dish.

easy and so good, I think this would work well using a variety of different pudding flavors, I layered this in tall serving glasses instead of the pan which made a lovely presentation, thanks for a great east dessert Coffee!
Crush the bag of oreo's in a food processor or blender.
Blend the crumbs w/ butter (melted).
Reserve 1/4 cup for topping.
Press in the bottom of a 9x13 cake pan.
Beat the pistachio puddings w/ the 3 cups of milk.
Fold into 3/4 of the CoolWhip.
Top w/remaining CoolWhip.
Sprinkle some reserved cookie crumbs on top.