Pistachio Crusted Cornish Game Hens
Heirloom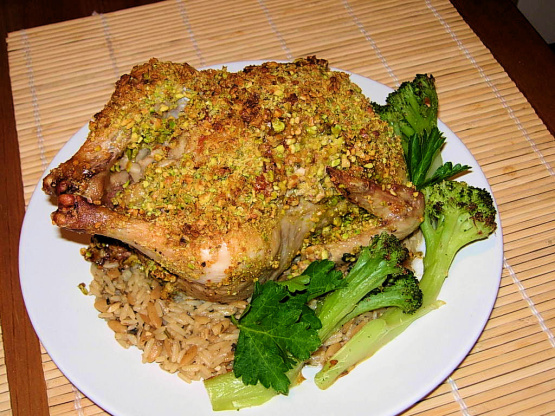 A plump juicy game hen crusted with pistachios and parmesan cheese. I like to stuff mine with Stovetop sourdough bread stuffing as well. I've noticed that when stuffed, the birds stay much more moist.
I used a trick I learned for making butter & spices, etc. stick to poultry, simply melt the butter & stir it up with the nuts & cheese to make a sticky paste. It will stick much better, when using spices I put the butter mixture in the fridge for a bit to give it a more workable texture, it stays on the bird and imparts a lovely no-baste flavor! I also took Heirloom's advice & stuffed the birds w/stovetop that I made with organic, free range chicken broth in place of water. Since my honey won't be home for a couple hours I set the oven to 255 to slow roast my little birdies... You have simply got to try this! The flavor is DEVINE! Extremely moist with the crust of cheese & nuts, the stuffing had a lovely flavor as well... A keeper!
Preheat oven to 350°F.
In a food processor crush pistachios until crumb-like.
Mix grated parmesan cheese and pistachios in a small bowl.
In an 8 x 8 casserole dish baste the game hen with the melted butter.
Pat the pistachio mixture onto the bird, covering entirely.
Bake at 350°F for 1 hr 10 minutes.
Internal temperature of bird should be 175-180°F.