Pistachio Biscotti (Diabetic)
PaulaG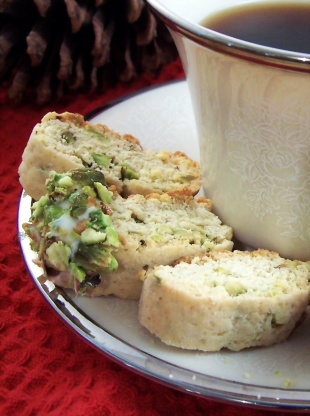 Yummy and perfect on holiday cookie trays but are good any day of the year. Be sure to use the green pistachio's! (that is if you can find then). The recipe claims to make 84 pieces, this only makes 84 cookies in my dreams, but thats the story of my life. In my world you'll get a lot less but your yield will really depend on the size you want the cookies to be.

I love making biscotti & we both enjoy eating it no end, so your recipe was a welcome addition to my kitchen workings! Easy enough to put together, & a definite delight to devour! I usually like to bake them a little less than the recipe gives so that they aren't totally dry, mostly because I'm not a dunker but eat them as a regular cookie! Will be making them again, for sure! Thanks for posting the recipe! [Tagged & made in Please Review My Recipe]
Preheat oven to 325 degrees F. Lightly spray two cookie sheets; set aside. In a large bowl combine flour, baking powder, salt, and Splenda. Make a well in the center of the flour mixture. Place EggBeaters (You may need another 1/4 cup of EggBeaters depending on the asorbtion of the flour) in the well and stir into the flour mixture. Add butter and, vanilla, stir until dough starts to form a ball. Stir in nuts.
Turn the dough out onto a lightly floured surface; divide into three equal portions. Shape each portion into a 14-inch-long log. Place logs about 3 inches apart on prepared cookie sheets; flatten logs slightly until about 1-1/2 inches wide. Bake 25 to 30 minutes or until firm and light brown. Remove from oven and place cookie sheets on wire racks; cool 15 minutes.
Transfer logs to cutting board. Use a serrated knife to cut each roll diagonally into 1/2-inch slices. Place slices, cut sides down, on cookie sheets. Bake for 10 minutes. Turn cookies over; bake 10 to 15 minutes more or until crisp and golden brown. Transfer to a wire racks and let cool.
Makes about 84 cookies.