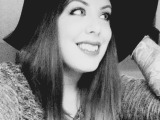 Refreshing and perfect for summer.
1 (750 ml) bottle wine, sauvignon blanc
1 1⁄2 cups pisco brandy
1 cup orange juice
1⁄2 cup lemon lime syrup (recipe below)
1 granny smith apple, cored, halved and thinly sliced
1 orange, halved and thinly sliced
1 lime, thinly sliced
1 lemon, thinly sliced
1 small bunch mint

For the lemon-lime syrup

1 cup sugar
3⁄4 cup water
2 thin slices limes
2 thin slices lemons
Directions
For the syrup, combine sugar and water in a saucepan. Boil and cook until sugar completely dissolves. Add lime and lemon. Let cool. Chill for 1 hour and remove fruit. Keep refrigerated for up to 1 month.
Mix together all ingredients in a pitcher, cover, and refrigerate for 4-24 hours.