Piquante Chicken and Beans With Cheese (Crock Pot)
XAnnette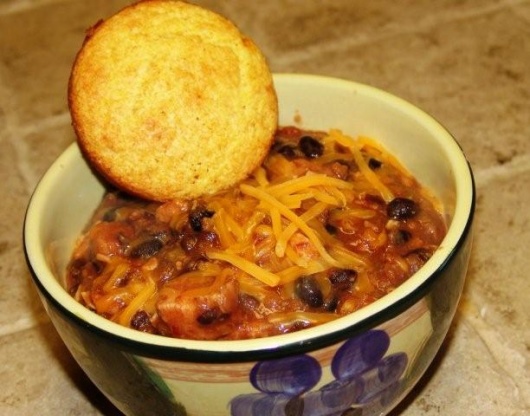 A nice change from the usual beef and beans casseroles, this stew uses ingredients I always have on hand. Filling and not too spicy. Use canned beans that have chili seasonings and peppers, such as Heinz.

I was unsure about making this with chicken but I'm converted now. This was so yummy and easy and tasted like chicken chili. I made half a recipe for just my husband and me. I used black beans instead of chili beans and canned corn instead of frozen corn. I didn't need any salt or pepper.
Place all ingredients, except salt, pepper and cheese into crock pot and stir well.
Cook on high 4-5 hours or on low 6-8 hours.
Add salt and pepper to taste, if needed, sprinkle cheese over top and cook an additional 15 minutes.