Piquant Prince Edward Medley
Stacky5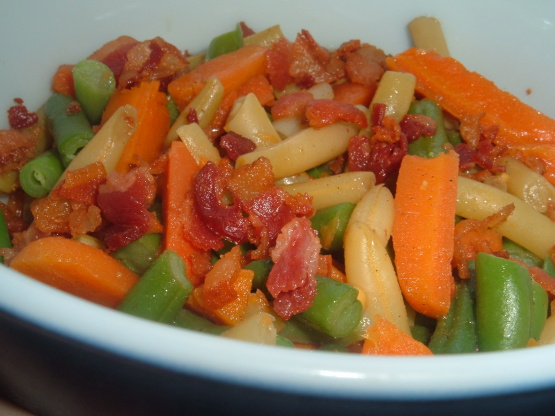 This comes from Prince Edward Island Canada, (home of Anne of Green Gables fame.) It is a colorful blend of beans and carrots with a nice crisp texture. Posted for the Zaar World Tour to Canada, 2005.
Dice the smoked bacon and cook in a sauté pan until crisp.
Drain crisp bacon on dry paper towels and reserve 2 tablespoons of Bacon Fat in a bowl.
Mix the remaining ingredients into the Bacon Fat.
In a hot pan, add the vegetables and heat until warm, stirring often.
Add the Bacon Fat mixture and the crisp Bacon.
Stir well in the pan and serve immediately.