Piquant Crab and Eggplant (Aubergine) Dressing
PaulaG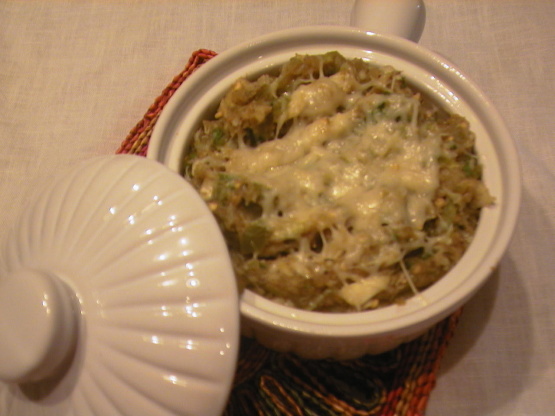 This is a cajun recipe that I originally found somewhere on the 'net but have made some modifications. I serve this as a side-dish, but it could probably be used as a main dish as well. Recipe is very spicy, feel free to adjust to your own preference.
Top Review by PaulaG
DH and I loved it! I reduced the amount of butter by half and instead of the peppers I used Emeril Lagasse's Essence #14372. After I had the ramekins under the broiler I remembered that I had not added the Tobasco and we didn't miss it. It had enough zip. I served this as a main dish with a side salad.
Melt the butter in a Dutch oven or other large heavy pot.
Add onions, peppers and celery.
Cook until the vegetables are very soft, stirring occasionally, about 30 minutes.
Meanwhile, peel the eggplants and cut into 1-inch cubes.
Place them in a pot and cover with water.
Bring to boil and boil slowly for a few minutes, just until they are tender.
Drain well and puree until smooth in a food processor or blender.
Add the eggplant puree, seasonings, herbs and the juice from the canned crab (if any) to the vegetable mixture, return to simmer and cook over medium heat for 10 minutes, stirring occasionally.
Add the crab meat (picked over of course to remove any shell) and cook just long enough to heat through.
Remove from heat.
Stir in the green onions and the parsley.
Spoon the hot mixture into a casserole or individual ramekins, if desired.
Sprinkle generously with Parmesan cheese and bread crumbs.
Place under broiler just long enough for cheese to melt, and serve immediately.