Piperada Sandwich (Basque Omelette)
AshK5246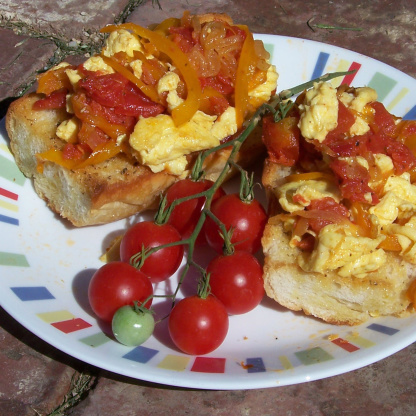 From The Food and Cooking of Spain, Africa and the Middle East. Posted for ZWT III.

After feeding cattle this morning and bringing hay down, I thought this morning would be the perfect morning to have a warm breakfast that would help take the chill out of the icy morning. This did not let me down. I tossed the vegetables into cook in my iron skillet, and the cayenne pepper was a must! I did add all the ingredients which just made the dish, and halved this easily. I used cherry tomatoes as these were the best tasting during the cold winter months. Thank you so much for a wonderfully, warm, delish dish!
Heat 4 T olive oil in a large heavy frying pan. Add the onions and cook over a gentle heat, stirring occasionally, for about 5 minutes till they are softened but not colored.
Add the peppers, garlic and cayenne to the pan.
Cook for another 5 minutes, stirring, then add the tomatoes, seasoning and oregano.
Cook over moderate heat for 15-20 minutes till peppers are soft and most of the liquid has evaporated.
Preheat oven to 400. Cut the bread in half lengthwise, trim off ends and cut into six equal pieces, brush with remaining olive oil.
place bread on baking trays and bake for 8-10 minutes till crisp and just turning golden.
Heat the butter in a pan till it bubbles, add eggs and cook, stirring, till softly scrambled.
Turn off heat and stir in the pepper mixture.
Divide evenly among the pieces of bread and sprinkle with basil, if using.
Serve hot or warm.