Pioneer Woman's Pasta Salad With Tomatoes, Zucchini and Feta
rpgaymer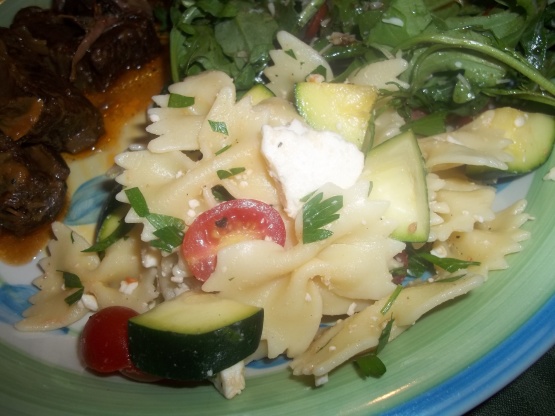 I found this recipe on Pioneer Womans website...........it's great! Best pasta salad I have ever made.
I really like light pasta salads like this. This one in particular was fresh-tasting and earthy. Not overly flavorful, but that's good with a side dish like this one... especially when you're serving it with BBQ like I did. I'd love to try the recipe with crumbled goat cheese instead of feta next time. [Made & Reviewed for PRMR]
Cook bowtie pasta in boiling, salted water until al dente, about 10 minutes. Drain and rinse. Add olive oil and lemon juice, salt and pepper. Pioneer Woman says DO NOT UNDERSALT! Toss and then add zucchini, tomatoes, parsley and feta cheese. Toss.
Add more of whatever you think it needs. PW says she likes to go heavy on the feta. Squeeze in a little more lemon juice and/or drizzle in a little more olive oil if it looks like it needs more moisture. Cover and refrigerate a few hours before serving.