Pioneer Woman's Pasta Primavera
lazyme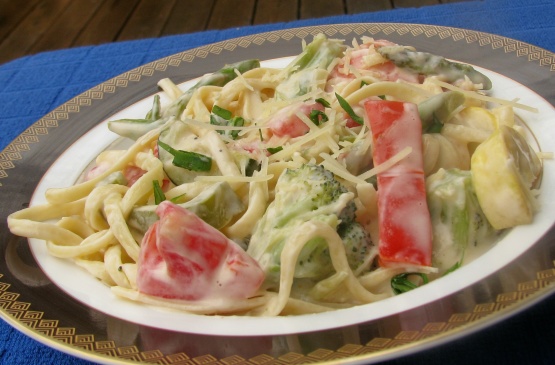 Posting for safe keeping. Looks like the perfect meal to me! Courtesy of Pioneer Woman.
3 -4

garlic cloves, minced
1⁄2-1 small onion, finely chopped

1

cup broccoli, cut into bite-sized florets and stem pieces
button mushroom, one pack, sliced

2

carrots, peeled and sliced on the bias

2

zucchini, sliced on the bias

1

yellow squash, sliced on the bias
1⁄2 red bell pepper, cut into strips

1

cup frozen peas

1

cup whipping cream (heavy)

1

cup half-and-half, plus a little more
half-and-half, for thinning sauce

1

glass white wine
low sodium chicken broth, as needed

6 -8

fresh basil leaves
grated parmesan cheese
In a large skillet, melt 2 tablespoons butter with 2 tablespoons olive oil. Add onion and garlic and cook until translucent, about 2 minutes.
Time to start sautéing the veggies in batches, cooking only 1 or 2 minutes (at most) each.
Add broccoli and carrots to onion & garlic. Cook only for a minute, then remove to separate plate. Add another tablespoon of butter to pan and add red pepper strips. Cook for one minute, then remove. Repeat with remaining veggies, being very careful not to overcook; veggies at this point should still be somewhat raw/crunchy.
When all veggies have been removed and skillet is empty, pour ½ to 1 glass of dry white wine to pan.
With whisk, begin to scrape the bottom of the pan to loosen all the nice, flavorful bits from the bottom. Cooking over medium heat, add ½ cup low-sodium chicken broth, 1 tablespoon butter, 1 cup whipping cream, and 1 cup half and half.
Add ½ cup grated Parmesan. Stir together and cook until thick, adding salt & pepper to taste. Taste sauce as you go; don't oversalt, but don't undersalt either!
Chiffonade fresh basil leaves, and stir into sauce. Now add all the veggies, including frozen peas, at once. Stir gently to combine; if sauce seems to thick, add equal parts half & half and chicken broth to thin. Cook over low heat until warm, just a couple of minutes. You don't want soggy veggies! Taste & check seasoning; add more salt & pepper if needed.
Dump in al dente penne pasta, stir to combine thoroughly, and pour onto a large platter. Garnish with more basil leaves, throw on some more Parmesan, and gobble it up!