Pioneer Woman's Hot Roast Beef Sandwiches
Prep 20 mins
Cook 20 mins
Hot, cheesy, beefy and easy freezy sammies.
Directions
Slice rolls in half. Mix together mayo, grated onion, poppy seeds, spicy mustard, horseradish, and Worcestershire. Taste it and adjust ingredients however you wish.
To assemble, spread dressing on top and bottom buns. Lay on roast beef or ham, then one or two slices of cheese (I cut them to fit the small buns.) If you're using Cheez Whiz, spread a layer on the top bun.
Wrap each sandwich in a foil square, and either keep in the fridge or bake right away. To bake the sandwiches, put them on a baking sheet in a 350 degree oven for 15 to 20 minutes. The buns should be slightly crusty and the cheese should be melted.
Reviews
Most Helpful
I've made this twice now for beach gatherings this summer. In Pioneer Woman's original recipe she uses small dinner rolls but I used full size hamburger buns. I purchased evening from Smart and Final, I used their store brand roast beef and provolone cheese, but iI doubled the meat called for in the recipe to 2 lbs because the sandwiches are larger. I only needed one package of cheese because the slices are large and I used the buns without sesame seeds. I preheated the oven, prepared the sauce (without the horseradish) and spread it on both sides of the bun, about 3 slices of roast beef, 1 slice of provolone, wrap in foil and you're done! I made a dozen sandwiches and took them hot out of the oven and put them in an insulated bag and headed straight to the beach. Instant hit!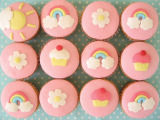 We loved this sandwich. DH would have preferred his open face on regular bread but he ate it all. I skipped the poppy seed as he doesn't like anything "gritty". I used the remains of last Sat's roast that was oh so tender and served it with fries and a salad. We enjoyed these. Made for PAC, Spring 2014.