Pioneer Woman's Best Macaroni Salad Ever
Boomette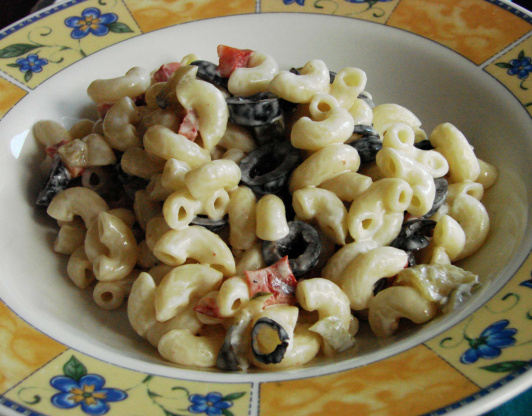 From the Pioneer Woman. Feel free to add more or less sugar, salt and pepper to the dressing. Also add more of olives, onions, pickles or peppers, however much you like. You can also use canned pimentos in place of the red peppers.

I made this recipe as written but we found that it was way under dressed. Good flavor if you could catch some of the dressing but not enough. After making, I doubled the dressing recipe and added it in. This probably could have used more. The original recipe is very dry and tastes like an under seasoned bland macaroni salad. I should have had a warring when she stated what she hates about pasta salad. Double or triple the dressing and this could possible be a good macaroni salad.
Cook macaroni in lightly salted water till done. Drain in a colander and rinse with cold water. Set aside.
Mix mayonnaise, vinegar, sugar, salt, pepper, milk and pickle juice in medium sized bowl.
In large bowl place cooked macaroni. Add about 3/4's of the mayonnaise mixture to the macaroni. Next add the peppers, pickles, olives and onions. If needed, add the remaining dressing. Add a splash of pickle juice to the salad. The salad dressing will thicken up after refrigeration.
Refrigerate for at least two hours before serving.