Pioneer Woman Cinnamon Rolls
Elise C.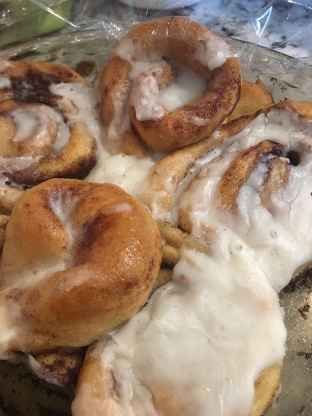 She does it again and again! THIS RECIPE IS A HALF OF HER BATCH.

This is the 4th cinnamon roll recipe I've tried and by far the best. I am not usually a fan of cinnamon rolls, but these were delicious!
Mix whole milk, vegetable oil and sugar in a pan.
Scald to 150 degrees. Let cool until lukewarm.
Sprinkle in yeast and let sit.
Then add 4 C flour, stir mixture together.
Cover and let sit for one hour.
Add 1/2 C flour, baking powder, baking soda, and salt. Stir mixture together.
Sprinkle surface generously with flour and form into a rectangle, roll the dough thin, maintaining a rectangular shape.
Drizzle melted butter over dough. Sprinkle with sugar and cinnamon.
Roll the dough toward you. Pinch the seam to seal it. Grease foil cake or pie pans. Cut rolls 3/4 to 1 inch thick and lay in greased pans. Cover the rolls and let sit for 30 minutes. Bake at 400 for 15 to 18 minutes.
Combine all frosting ingredients in a bowl and mix thoroughly.
Generously drizzle frosting over warm rolls after they come out of the oven.