Pioneer Woman Cajun Chicken Pasta
Prep 10 mins
Cook 15 mins

From one of my favorite websites: The Pioneer Woman Cooks.
Directions
Cook pasta according to package directions. Drain when pasta is still al dente; do not overcook!
Sprinkle 1 1/2 teaspoons Cajun spice over chicken pieces. Toss around to coat. Heat 1 tablespoon oil and 1 tablespoon butter in a heavy skillet over high heat. Add half the chicken in a single layer; do not stir. Allow chicken to brown on one side, about 1 minute. Flip to the other side and cook an additional minute. Remove with a slotted spoon and place on a clean plate.
Repeat with remaining chicken. Remove chicken, leaving pan on high heat.
Add remaining olive oil and butter. When heated, add peppers, onions, and garlic. Sprinkle on remaining Cajun spice, and add salt if needed. Cook over very high heat for 1 minute, stirring gently and trying to get the vegetables as dark/black as possible. Add tomatoes and cook for an additional 30 seconds. Remove all vegetables from the pan.
With the pan over high heat, pour in the wine and chicken broth. Cook on high for 3 to 5 minutes, scraping the bottom of the pan to deglaze. Reduce heat to medium-low and pour in cream, stirring/whisking constantly. Cook sauce over medium-low heat for a few minutes, until cream starts to thicken the mixture. Taste and add freshly ground black pepper, cayenne pepper, and/or salt to taste. Sauce should be spicy!
Finally, add chicken and vegetables to sauce, making sure to include all the juices that have drained onto the plate. Stir and cook for 1 to 2 minutes, until mixture is bubbly and hot. Add drained fettuccine and toss to combine.
Top with chopped fresh parsley and chow down!
Most Helpful
Chow down, we did! This dish was a little "out of our box" as far as what we normally eat around here. A few sniffs of the wonderful aromas brought the family to the kitchen and I piled on the servings. I was a bit short on the cajun seasoning and glad I was since it was plenty spicy! I used leftovers from a rotisserie chicken and fresh linguine rather than fettuccine. Also a bit time intensive for a weeknight, but worth it. My photos didn't do this justice, but will try again. Thanks for posting this one, Krista! Wonderful.

We loved the flavor of this sauce! I had to make a few subs but it was still divine with a nice kick. I used 1/2 and 1/2 and a bit of cornstarch instead of the cream and I didn't realize I was out of fresh tomatoes, so I had to sub canned petite diced tomatoes. For those avoiding gluten, this was awesome served over rice too. As others stated, I would not hesitate to serve to guests. I also made a vegetarian version (just for me yah!) subbing zucchini for the chicken.Thanks for posting!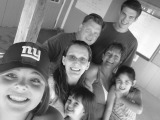 This recipe was not only awesome, it made me happy. Something about that little kick of cajun spice. Very very good and I will add it to my list of meals for a crowd.