Bayhill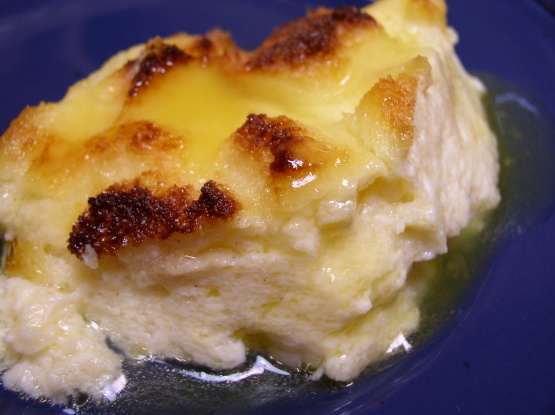 This recipe came from a now defunct restaurant in Sister Bay, Wisconsin -- located in Door County - Wisconsin's "Cape Cod." My family repeated made this recipe in the 80's -- and I lost my copy until I recently came across it while cleaning my filecabinet. I'll be making it again soon!
Delicious! This bread pudding is very quick and easy to make. It is more like an egg custard than a bread pudding, but it has a wonderful, light flavor that compliments well with the lemon sauce. I used 2-1/2 cups of bread cubes and baked it in a 1-1/2 qt. dish for 45 mins. The lemon sauce adds just the right touch to this pudding. It is like a thin lemon curd but is not too sweet. Thank you for sharing this wonderful recipe, my family loved it!
For Bread Pudding: Place bread cubes in a greased 1 quart baking dish.
In a saucepan, heat next four ingredients (milk, sugar, butter and salt) over low heat until butter melts.
In a bowl, beat eggs.
Whisk in warm milk mixture.
Stir in vanilla.
Pour over bread.
Place baking dish in a shallow pan of hot water.
Bake, uncovered, at 350F for 40-45 minutes or until a knife inserted 1' from edge comes out clean.
For Lemon Sauce: Combine sugar, cornstarch and salt in a saucepan, stir in water and lemon peel.
Bring to a boil.
Cook and stir for 2 minutes.
Remove from heat.
Stir in butter, lemon juice and food coloring.
Serve warm or cold with the pudding.
Refrigerate leftovers.