Pioneer Boulangerie Chocolate Chip Butter Cookies
twissis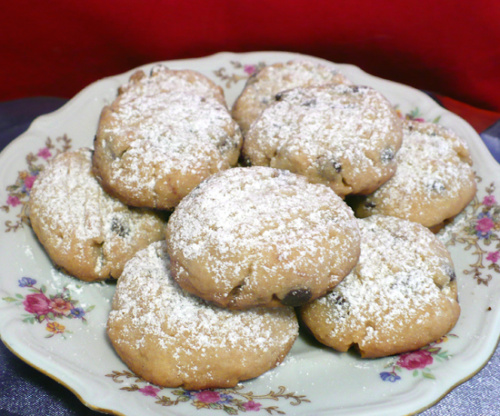 I couldn't believe my luck when I found this recipe in "The Los Angeles Times California Cookbook" (1981). The Pioneer Boulangerie was a fabulous bakery/restaurant in the Ocean Park area of Santa Monica; my friends and I lived on these fabulous chocolate chip cookies for years! The Boulangerie disappeared some time in the 1990s, but it's great to know these cookies can still be enjoyed.

WOW! The cookies are delicious and easy to make. I used Pulga, european style butter, suggested by Paws in Hand, and I sifted the flour before measuring it, it went together very easily. It was sad that the Pioneer Boulangerie closed down; but worst still the Pioneer Bakery that had been on Rose Ave in Venice, moved to Orange County and used it's land in Venice for condominium development. Pioneer still makes sourdough bread but the quality had dropped.
Cream together butter and two cups of powdered sugar.
Add salt, vanilla, and flour and mix until blended. Mixture will be stiff!
Stir in chocolate pieces.
Pinch off pieces of dough. Roll into 1" balls and flatten with a fork on a baking sheet.
Bake at 350 for 15 minutes. Sprinkle with additional powdered sugar while still hot.