Pinxtos Morunos: Grilled Lamb Marinated in Cumin, Lemon and Saff
PetsRus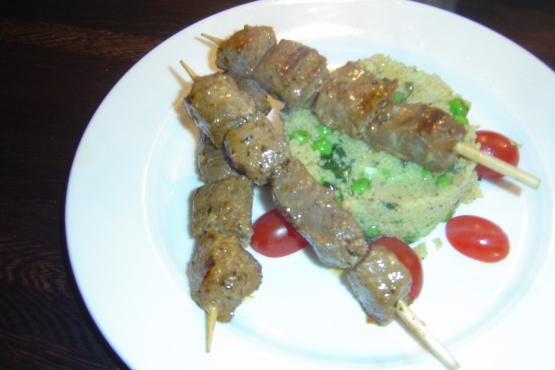 Sean Mullen of Boqueria's version of the moroccan influenced dish found in spain dish. I LOVE the idea of mint in it and jalapeño. Part of his "tapas menu for 8" Oscar party. Time does not include overnight marination. Edited to reflect the lower amt of olive oil suggested

Marra, this was wonderful flavoured lamb and we very much enjoyed it. The only thing which was a shame is that the amount of olive oil was just too much for this amount of meat and after marinating there was a lot of waste. I will certainly make this again (maybe even trying it with pork too) but will use only 1 cup of oil, the recipe states 2, but will keep the seasoning of the marinade the same. I served this with couscous mixed with peas and broccoli. Thanks for sharing!
1

lb top round lamb, cut into bite-size pieces (one-inch pieces)

Moruno Marinade

1

cup olive oil (original says 2)

1

pinch saffron

1

tablespoon spanish smoked paprika

1

tablespoon chopped mint

1

jalapeno peppers, finely diced (guindilla) or 1 dried chili (guindilla)

1

tablespoon sherry wine vinegar
1⁄2 cup lemon juice

1

tablespoon ground cumin
Combine all marinade ingredients well.
Marinate lamb in Moruno marinade overnight in the refrigerator;.
skewer cubes and sear over medium heat for one minute on each side, or until desired doneness; serve with coarse sea salt.